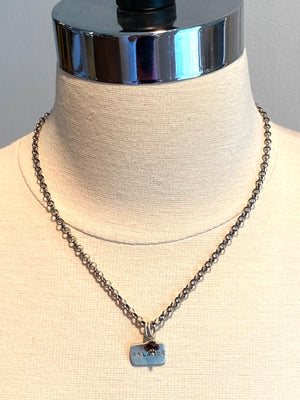 18" Sterling 'Balance' Diamond Tag Garnet Charm Necklace
18" Sterling Silver oxidized 3mm Rollo chain with our stamped 'Balance' charm and faceted red Garnet gemstone charm. Our Balance charm measures 7/16" x 11/16" , and features a hand set 1 pt. diamond , in a matte finish. This is our original stamped charm , which we cast for production. The 8mm Garnet gemstone is hand wrapped in sterling with sterling detail beads.
Garnet is the birthstone for January, which revitalizes, purifies and balances energy. Garnet also inspires love and devotion.