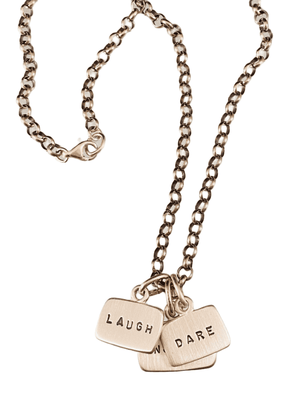 16" Sterling Silver Laugh Inspire Dare Tag Charm Necklace
16" Antique finish sterling silver rollo chain tag charm necklace , featuring Laugh, Inspire and Dare Tag stamped charms. These are our original hand stamped charms which are then cast and hand finished.
Charms are approximately 1/2" across by 3/8" in height. Our tag charms are intended to let you to wear your intentions and allow them to come true.  
Our rollo chain is finished with a secure sterling silver lobster claw clasp, and the chain can be worn shorter by clasping onto the links. Longer chain also available.