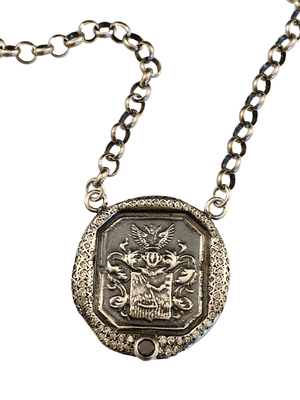 18" Sterling Silver Square Oxidized Crest with Diamonds
18" Sterling Silver Square Crest necklace featuring a shield with an arm and a Scythe in a field , symbolizing  harvest and abundance .
This pendant is 1" square, accented with approximately  90 1/2 pt. hand set diamonds , and a 4mm Black diamond at the bottom of the piece. Our chain is an oxidized 2mm rollo chain , we can also put this on a shiny chain if preferred. 
This is a finely detailed crest with floral and wing symbols. 
Necklace is finished with a lobster claw clasp.