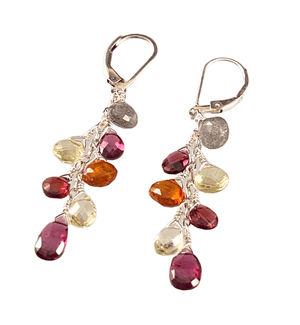 Garnet Topaz Lemon Quartz Citrine Labradorite Silver Waterfall Gemstone Earrings
Vibrant colored fine quality gemstone briolette earrings in hand wrapped sterling silver wire and sterling silver  lever back ear wires. 
We chose Garnet, Topaz, Lemon Quartz, Citrine, and Labradorite for this unique pair of Waterfall earrings. Earrings are 1 1/2" in length below ear wire.

Each gemstone is selected to carefully match , and the earrings have a right and left side as we create them as mirror images. 
The stones range in size from 5mm for the smallest to 5 x 8mm for the Garnet.